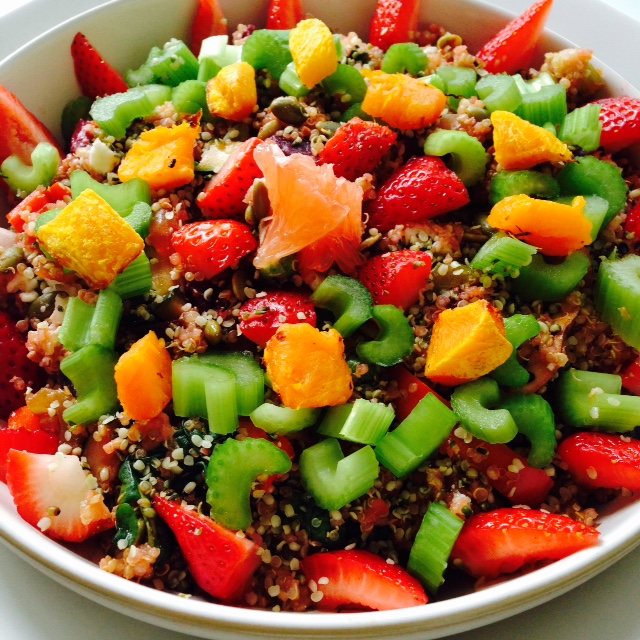 Quinoa used to be foreign to most of us in Canada, but now it has become a staple in many households. Not only is quinoa widely available, but it only takes 10-15 minutes to cook compared to brown rice (Nutrition_Facts_Label (1)) that takes up to 40 minutes! Here's a quick nutrition summary for cooked quinoa: Nutrition_Facts_Label. The long and short is that quinoa is a great source of fibre, complex carbohydrates, plant-based protein and trace minerals.
Quinoa on it's on can be a bit bland. Salads such as this are great because you can add in various flavours and textures to boost the overall appeal. I tend make recipes and meals based on what's available at home. Take a look in your fridge and see what you have to work with: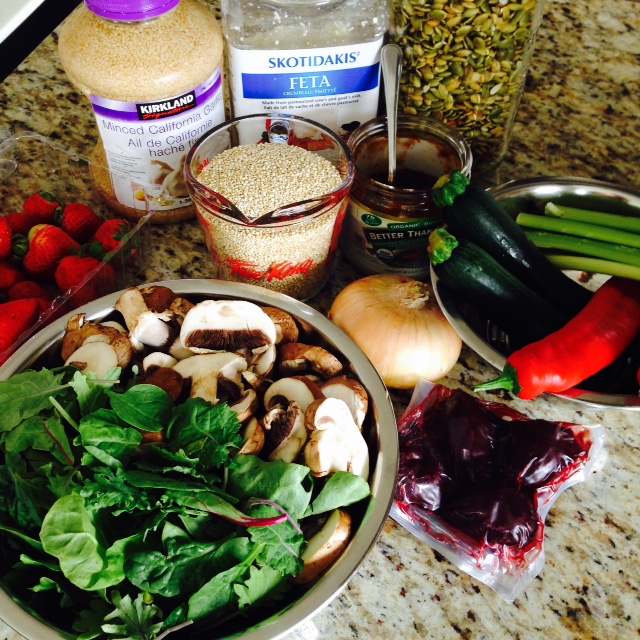 Start with a chopped onion and saute until nicely caramelized. Then begin to add the mushrooms, garlic and any other colourful veggies that you happen to have on hand. Add any broccoli, kale or dark leafy greens at the end to prevent them from going brown!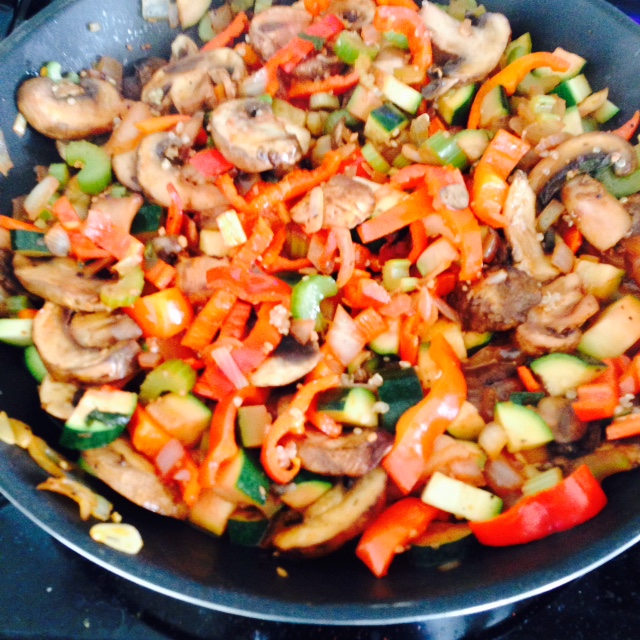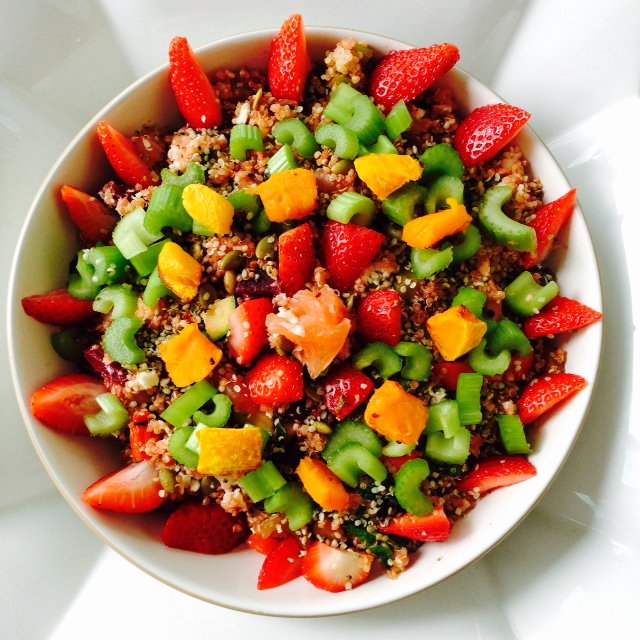 Quinoa Salad
Cuisine:
Vegetarian, Gluten Free, Main Course
Ingredients
Quinoa, 2 cups dry
Vegetable broth or base, 2 cups *I use "Better Than Bouillon"
Avocado oil, ½ Tbsp
Onion, 1 medium, chopped
Smoked Paprika, 1-2 tsp
Garlic, 2-3 cloves, minced
Mushrooms, 2 cups
Balsamic Vinegar, 1-2 Tbsp
Celery, 3-4 stalks
Red Bell Pepper, 1 medium, chopped
Zucchini, 2 small or 1 large, chopped
Baby Kale or Spinach, 1-2 cups
Beets, 4 small, cooked and chopped
Feta Cheese, 1 cup crumbled *optional
Pumpkin Seeds, 1 cup
Chickpeas or Green Chickpeas, 1 cup *optional
Strawberries, 1 cup, chopped
Butternut Squash, 1 cup, roasted
Hemp Hearts, sprinkled on top *optional
Instructions
cook the quinoa in 2 cups of vegetable broth or water - about 10-15 minutes (bring to a boil and simmer until all the water cooked into the quinoa)
saute the chopped onion in oil under the under becomes translucent
add the mushrooms, garlic and balsamic vinegar
add the remaining vegetables that you would like cooked: zucchini, pepper and celery
once the quinoa is cooked, set aside off the heat
add in your leafy greens, beets, feta, chickpeas, squash and pumpkin seeds
Mix the hot stir-fried veggies with the quinoa mixture and top with strawberries or any other raw fruit or veggies
Nutrition Information
Serving size:
1 cup
Calories:
243
Fat:
10 g
Carbohydrates:
30 g
Sugar:
5 g
Sodium:
308 mg
Fiber:
5 g
Protein:
11 g
Green chickpeas are a nice add in. They are very similar to green peas!