Rainbow Shepherd's Pie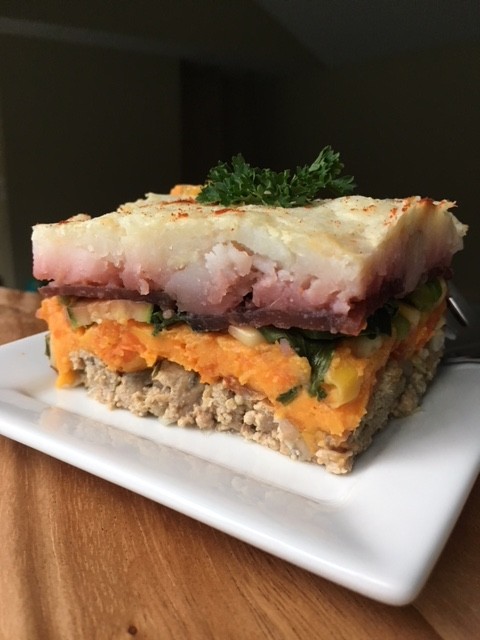 2 lbs ground turkey, lean ground beef or meatless ground round
2 small onions or 1 large onion
3-4 cloves garlic, minced
2 tsp worcestershire sauce
1 Tbsp fresh rosemary, chopped (or 1-2 tsp dried)
½ tsp salt
4-5 tomatoes, sliced
4-5 carrots, peeled and sliced
1 large or 2 small yams, chopped
2 cups corn (frozen)
2 cup peas
2-3 zucchinis, sliced
4 cups kale, spinach or mixed greens
5-6 potatoes
2 large beets, sliced *optional
2-3 Tbsp butter or oil - divided
¼ cup milk of choice
½ tsp pepper
1 Tbsp honey
2 tsp salt - divided
½ tsp smoked paprika
Preheat oven to 375 F
Slice and chop all the vegetables you plan on using.
Fill 2 medium pots with water (half way) and bring to a boil. One pot for the potatoes and one pot for the yams/carrots. Put the potatoes in first as they will take longer to cook,
In a non-stick skillet or pan, start cooking the meat over medium heat. Add in the onions and cook for about 5 minutes. Add in the garlic, worcestershire sauce, rosemary and salt. Cook for another 5-10 minutes, or until the meat is cooked throughout.
While the meat is cooking, check the status of the cooked potatoes and yams/carrots. They should be fork-tender or soft enough to mash.
Layer the cooked meat/meatless option in the bottom of a rectangular or circular casserole dish.
Keep the same skillet and add your greens to the pan. Add the peas first, then zucchini and lastly the fresh leafy greens. Cook "al-dente", or until bright green ~4-5 minutes.
Mash the potatoes with 1.5-2 Tbsp butter or oil, salt, pepper and milk
RED layer- add your sliced tomatoes on top of the meat
ORANGE layer - Mash the cooked yams and carrots with 1.5 Tbsp butter or oil, 1 Tbsp honey and ½ tsp salt. Layer over the sliced tomatoes
YELLOW layer - if using frozen corn, cook the corn in the microwave for 2 minutes. Sprinkle over the orange layer
GREEN layer - layer the cooked greens over the corn.
BLUE/PURPLE - layer the sliced cooked beets (or alternative) over the greens
WHITE/BROWN - layer the mashed potatoes on top
Sprinkle with smoked paprika.
Bake uncovered in the oven for 20-30 minutes, or until the potatoes start to crisp on top.
Enjoy!