Cran-Apple Lentil Walnut Loaf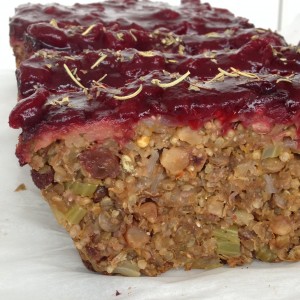 Author:
Crystal - Adapted from Angela Liddon - Oh She Glows
1 cup green lentils
3 cups water
1 cup walnuts, chopped
3 tbsp ground flax + ½ cup water
3 garlic cloves, minced
1.5 cups diced sweet onion
1 cup diced celery
1 cup grated carrot *optional (I did not use carrot in this particular version)
1 apple, peeled and grated or chopped
⅓ cup raisins
½ cup oat flour (oats ground into flour)
½ cup quinoa flour (quinoa ground into flour)
1-2 tsp italian seasoning
salt & pepper, to taste
red pepper flakes, to taste
Cranberry Topping:
2-3 cups fresh or frozen whole cranberries
1/23/4 cup water
½-3/4 cup sweetener of choice (Truvia/Stevia for low cal or coconut sugar)
**play around with the sweetness of the topping to your liking! Start with less water and sugar and gradually add more if needed
Preheat oven to 325F. Rinse and strain lentils. Place lentils into pot along with 3 cups of water (or veg broth). Bring to a boil and season with salt. Reduce heat to medium/low and simmer, uncovered, for at least 40-45 minutes. Stir frequently & add touch of water if needed. The goal is to over-cook the lentils slightly. Mash lentils slightly with a spoon when ready.
Toast walnuts at 325F for about 8-10 minutes. Set aside. Increase oven temp to 350F.
Whisk ground flax with water in a small bowl and set aside.
Heat a teaspoon of olive oil in a skillet over medium heat. Sautee the onion for about 5 minutes. Season with salt. Now add in the garlic, diced celery, shredded carrot, apple, and raisins. Sautee for about 5 minutes more. Remove from heat.
In a blender or small food processor, blend oats and quinoa into a flour. If you don't have either on hand, feel free to use bread crumbs.
In a large mixing bowl, mix all ingredients together. Adjust seasonings to taste.
Prep the cranberry topping by adding cranberries, sugar and water to a small saucepan. Bring to a boil and simmer for 10-15 minutes or until the desired consistency is reached and the cranberries have "popped".
Grease a loaf pan and line with parchment paper. Press mixture firmly into pan. Coat with ¾ of the cranberry topping. Reserve the remainder for dipping
Bake at 350F for 50-60 minutes, uncovered. Edges will be lightly brown. Cool in pan for at least 10 minutes before transferring to a cooling rack.
Serving size:
1 slice
Calories:
334
Fat:
12 g
Carbohydrates:
47 g
Sugar:
11 g
Fiber:
9 g
Protein:
13 g
Recipe by
Crystal Higgins
at https://crystalhiggins.com/cranberry-apple-lentil-walnut-loaf/