What do I eat on a typical workday? Look for the "What I Ate Wednesday" each week to dive a little closer into what your flexitarian dietitian actually eats – no hiding here!
Breakfast is always a must before heading off to work! The goal is to combine protein, fibre, healthy fats and a fruit or vegetable:
Breakfast: Chia Yogurt Fruit Bowl topped with Hemp Hearts, Pumpkin Seeds and Pecans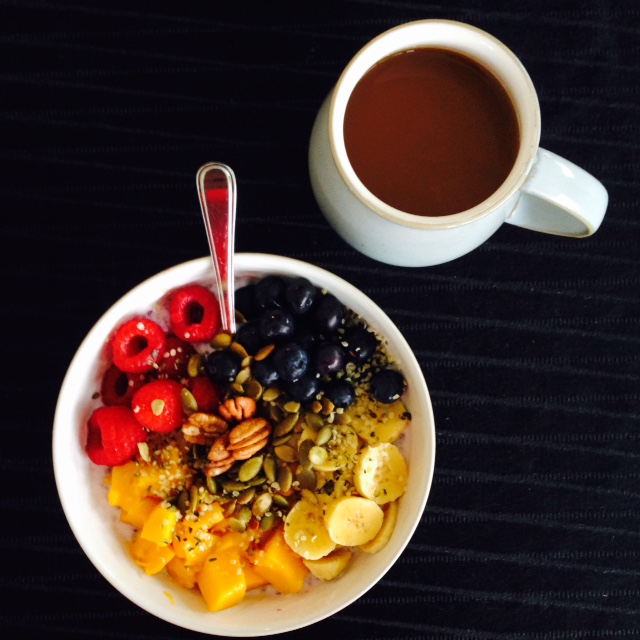 One of my typical hashtags for healthy eats is: #eatyourcolours. Eating a wide variety of naturally  coloured foods (not coloring or dye!) not only makes your meal look pretty, but also ensures that you're properly nourished. Each "colour group" represents a different set of health promoting phyochemicals, vitamins and minerals. It's hard to see in this photo, but this bowl started out looking like this….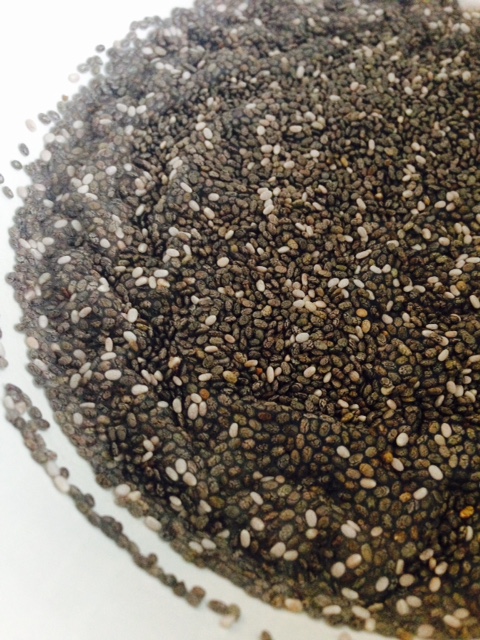 Believe it or not, this is actually one tablespoon of chia seeds covered with water. Chia seeds have been around in central america for years, but have only been popular in Canada within the last decade. These little seeds provide omega 3's, calcium, antioxidants and other trace minerals. However, it's their soluble fibre content that will keep you full and satiated throughout the morning.
The key is to allow them to swell up in a fluid such as milk or water until they form a bit of a gel – otherwise you'll feel like you're eating birdseed and will likely have chia stuck in your teeth!!
I'm always on my clients regarding flavoured yogurts. I know that rinsing or chopping fruit can be a pain, but it is far better to buy the PLAIN yogurt and sweeten in yourself with fruit. Besides, when it says "mango yogurt", is it really mango or is it just a syrup or flavoured sweetener that they've added? Take a look at your yogurt next time you're grocery shopping.
Lunch: Kale, Black Bean & Quinoa Salad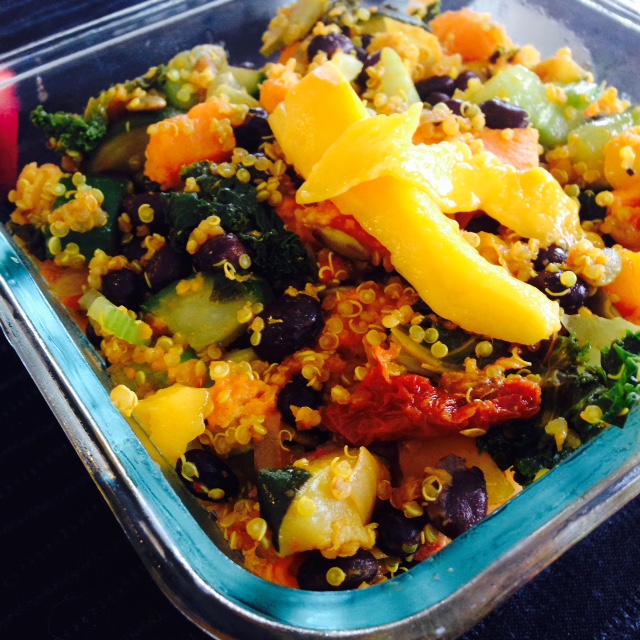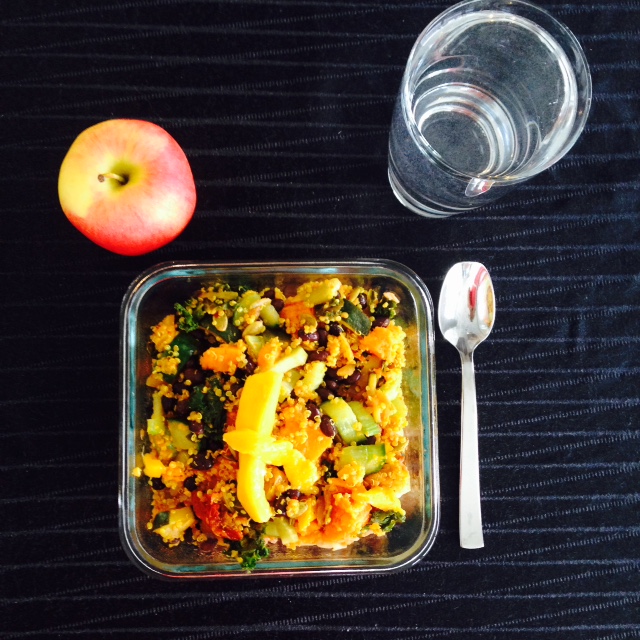 The great thing about quinoa salads is that you can pretty much put anything in them. Sautee up an onion with a bit of garlic, ginger or bell peppers. Add in the kale or any green leafy vegetable towards the end. To boost the flavour I added ground turmeric, smoked paprika and ginger in with the cooked quinoa. Mix it altogether and add any raw veggies at the very end (ie. cucumber or any fruit).
I typically suggest packing up your leftovers right after dinner – This can help with:
A) Portion Control – you're seconds are already packed into your lunch!
B) Time and Money – no waiting at the salad bar or busy grab-n-go spots for your lunch
C) Balance – chances are your packed lunch will be more green and lean
SNACK TIME!! This is where many of us need to be careful….the pre-dinner snacking can sometimes turn into more of a meal if we're not careful….I know that I've certainly been guilty of this. Watch out for triggers that promote overeating such as the TV, computers or even standing while eating at the counter.
MATCHA. MATCHA. MATCHA. I've seen it advertised at Blenz for years, but didn't actually buy any for myself until this year. I couldn't resist this lovely set put together by David's Tea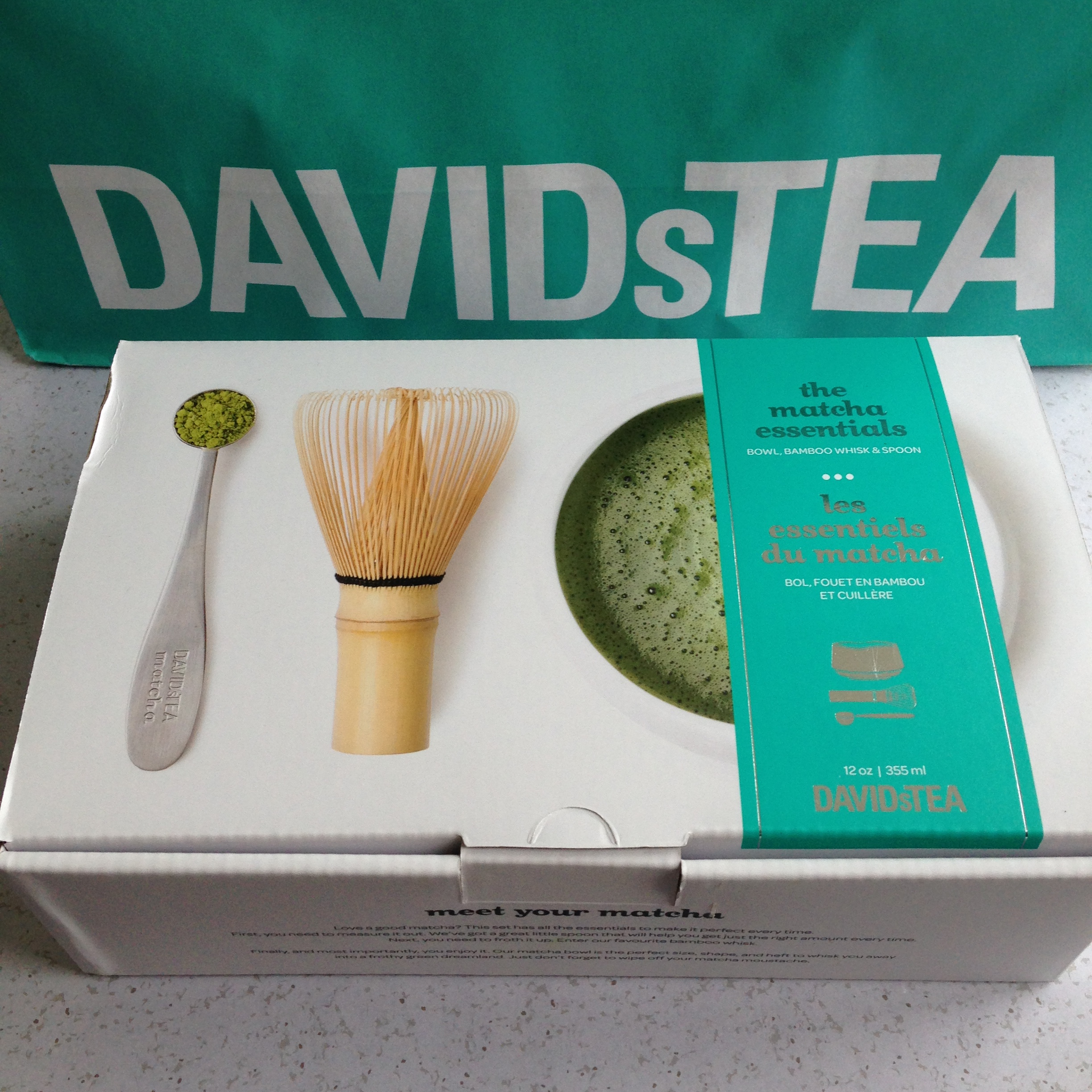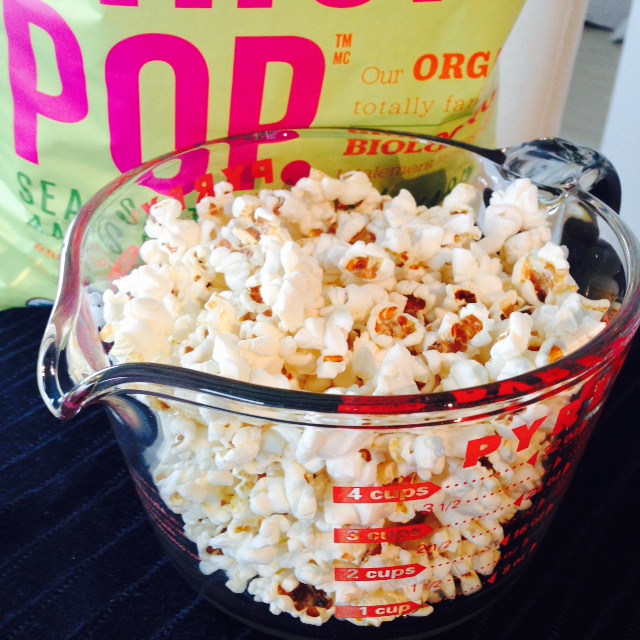 The good thing with the "boom-chicka-pop" is that it is only 35 calories per cup. It's hard to believe but this entire bowl has less calories than 1 Kashi granola bar!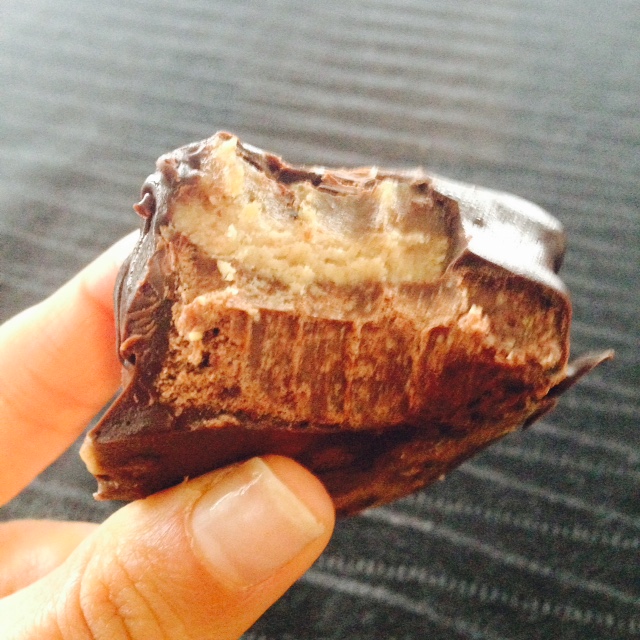 This was naughty….but I ate it anyway. Homemade caramel fudge bars – I couldn't resist

Dinner: Baked Steelhead with Veggies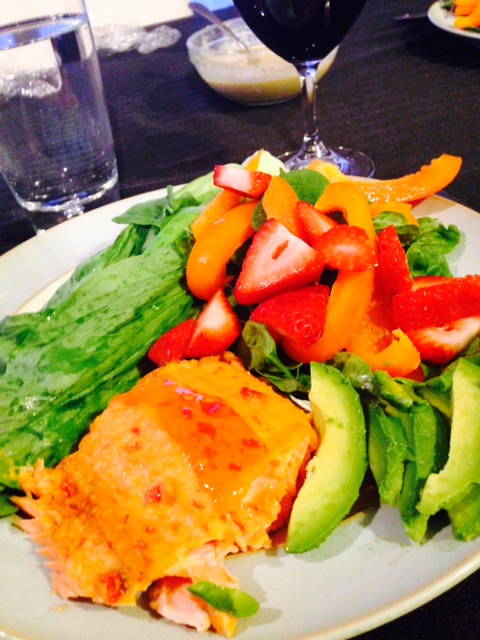 Dessert: Menchies Frozen Yogurt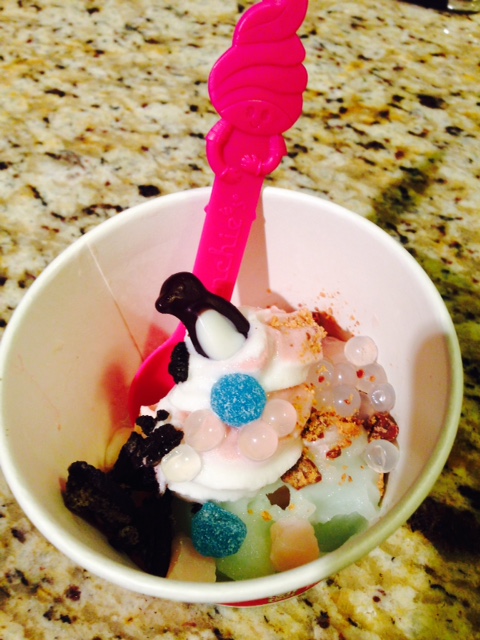 Dietitians have to live too….this is why I run

Happy hump day!!