Lentil Marinara Sauce with Spaghetti Squash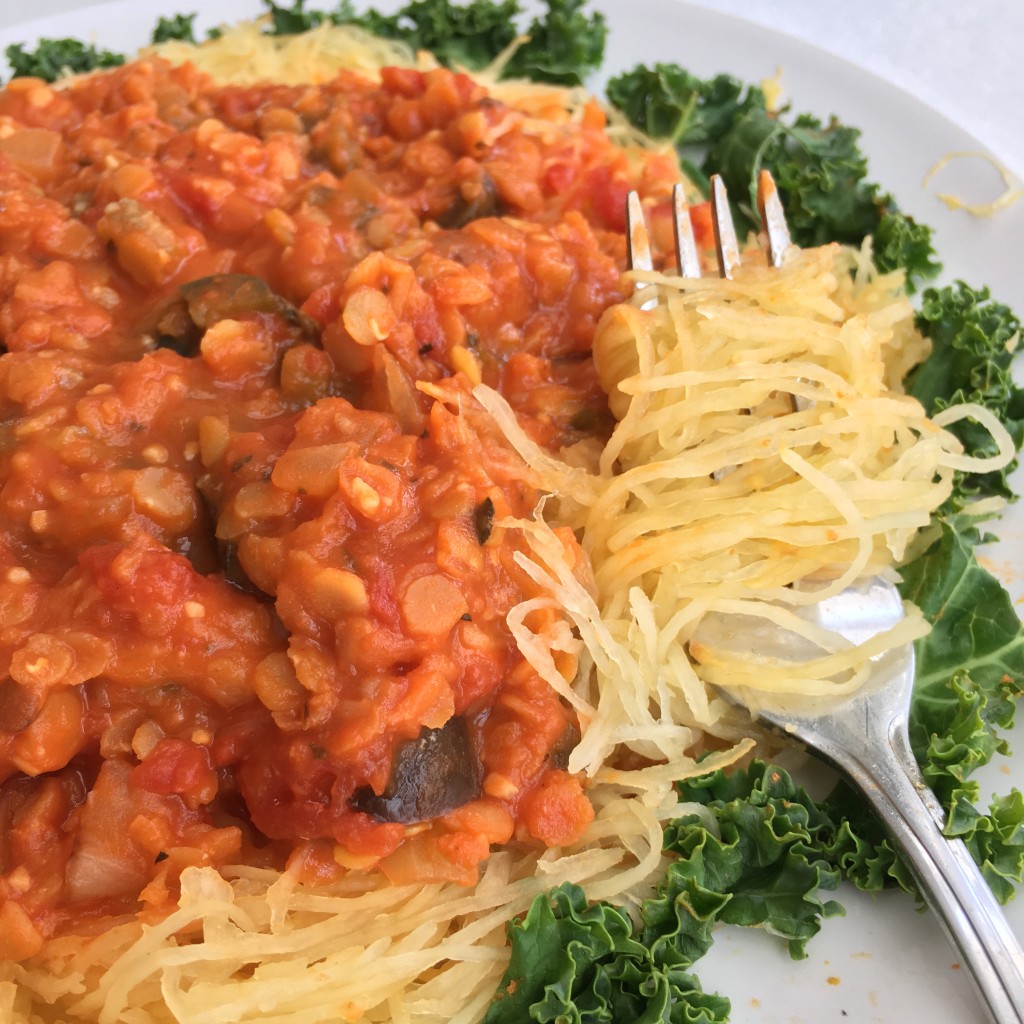 1 large spaghetti squash (or 2 small)
1 tablespoon olive oil
1 onion, chopped
4-6 cloves garlic, pressed or minced
1 can (156ml) tomato paste
1 can (28oz/796ml) diced tomatoes
4 cups water (or vegetable broth)
2-3 tablespoons nutritional yeast
1 teaspoon dried basil
½ teaspoon salt
1 cup red lentils, rinsed and drained
1 tablespoon balsamic vinegar
¼ cup fresh basil, chopped *optional but recommended
pepper to taste
SPAGHETTI SQUASH
Preheat oven to 375-400 F and line a baking tray with parchment paper.
Smear or spray the halved squash with olive oil or coconut oil, salt and pepper. Add garlic, onion or your favourite seasoning for extra flavour.
Place the squash flesh side down and bake for 25-30 minutes. Rotate the squash and bake for another 20 minutes or until the shell feels soft. Remove from the oven and set aside.
Once the squash has cooled enough to work with, take a fork through the fresh and portion out the "noodles" into plates or bowls for serving.
MARINARA SAUCE
In a medium pot or saucepan, heat the oil over medium heat. Once hot, add the onion and saute until browned, around 5 minutes. Add garlic and saute until fragrant, around 1 minute more. Add the tomato paste and cook through.
Stir in the can of diced tomatoes, water/broth, nutritional yeast, basil and salt. Stir in the red lentils, making sure they are not clumping together. Raise the heat to high, cover and bring to a boil. Once boiling, red the heat, and allow to simmer for 20 minutes, or until the lentils have cooked through. Add more water if you think the sauce is too thick for your liking.
Once the lentils are cooked through, stir in the balsamic vinegar and fresh basil. Season with salt, pepper or nutritional yeast (to taste).
Serve over top of your cooked spaghetti squash.
If you're short on time, use zucchini noodles or shirataki (or other gluten free noodle) as a base for the sauce instead of the spaghetti squash
The sauce is a great medium to use up any other vegetables that you may have on hand. Feel free to add eggplant, zucchini, leafy greens, celery or peppers into the mix.
Serving size:
¼ recipe
Calories:
322
Fat:
5g
Saturated fat:
1g
Carbohydrates:
58g
Sugar:
12g
Sodium:
606mg
Fiber:
10g
Protein:
16g
Cholesterol:
0mg
Recipe by
Crystal Higgins
at http://crystalhiggins.com/lentil-marinara-sauce-with-spaghetti-squash/