Chocolate Peanut Butter Chickpea Cookies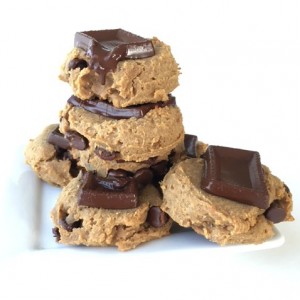 chickpeas, 15oz can, 1.25 cups, washed and dried
natural peanut butter, ½ cup
PB2, powdered peanut butter, 2 tablespoons **optional
honey or maple syrup, 3-4 tablespoons
banana, ½ ripe
baking powder, 1 teaspoon
vanilla, 2 teaspoons
dark chocolate chips, ⅓ cup
dark chocolate squares, 12 small **optional
Preheat the oven to 350 F and line a baking tray with parchment paper.
Rinse and dry the canned chickpeas.
Measure out all ingredients (except chocolate chips) into a food processor or high-powered blender. Blend until it forms a smooth, soft and sticky dough. Fold in, or pulse in the chocolate chips.
Use an ice cream scoop or ¼ cup measure to divide the batter into 12 balls. Alternatively, moisten your hands and form 12 balls.
Press down slightly and bake for 10 minutes.
Add 2 tablespoons peanut butter for an extra moist cookie.
Nutritional information was calculated without the optional dark chocolate sqaures
Serving size:
1 cookie
Calories:
140 calories
Fat:
6g
Carbohydrates:
16g
Sugar:
6g
Sodium:
119mg
Fiber:
2g
Protein:
4g
Recipe by
Crystal Higgins
at http://crystalhiggins.com/chocolate-peanut-butter-chickpea-cookies/