Blueberry Cinnamon Breakfast Bowl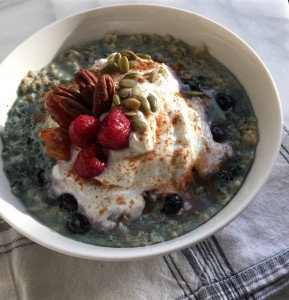 ½ cup large flake oats
1 cup water
½ cup frozen blueberries
½ cup egg whites
OPTIONAL TOPPINGS: cinnamon, greek yogurt, almond milk, stevia, honey or maple syrup, fresh berries, pumpkin seeds, hemp hearts or mixed nuts
Measure out oats, water and blueberries in a bowl and microwave for 2 minutes.
Add the eggs whites and cook for another 1.5-2 minutes, until the egg whites have cooked.
Top with greek yogurt, cinnamon, stevia and almond milk.
Use other seasonal fresh fruit and nuts/seeds for toppings if you like!
Nutrition information calculated using ½ cup unsweetened almond milk, ¼ cup plain 0% greek yogurt and 1 Tbsp pumpkin seeds as toppings.
Serving size:
1 bowl
Calories:
342
Fat:
8 g
Saturated fat:
1 g
Carbohydrates:
44 g
Sugar:
9 g
Sodium:
306 mg
Fiber:
8 g
Protein:
29 g
Recipe by
Crystal Higgins
at http://crystalhiggins.com/blueberry-cinnamon-breakfast-bowl/