Buffalo Cauliflower Wings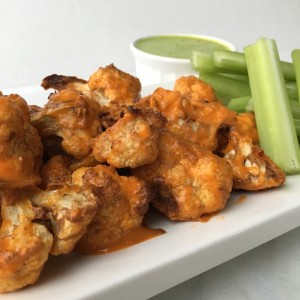 1 head cauliflower, 5-6 cups chopped
1 cup water
¾ cup whole grain or all-purpose flour (or gluten-free equivalent)
2 tsp garlic powder
1 tsp onion powder
½ tsp salt
½ tsp pepper
½ tsp smoked paprika
½-3/4 cup hot cayenne pepper sauce (Franks Buffalo or Western Family Buffalo Sauce)
SPINACH CHEESE DIP:
½ cup cashews
1 cup water
2 cloves garlic
⅛ onion or ½ shallot
⅓ cup nutritional yeast
2 Tbsp apple cider vinegar (or lemon juice)
2 tsp dijon mustard
handful each spinach and kale
½ tsp salt
pepper to taste
Frank's hot sauce to taste
Heat the oven to 450 F and line 1-2 baking sheets with parchment paper
Chop the cauliflower into small pieces. Place in a microwavable dish, bowl or plate and cook for 3 minutes. **this step is optional, but it will speed up the baking time
Mix the water, flour and spices in a large bowl - add more water if the batter is too thick
Add the cauliflower to the batter and coat each piece.
Place individual dipped-cauliflower florets on the baking tray with some space around each piece - this will help form a crispier 'wing'
Bake for 15-20 minutes flipping ¾ of the way into it. Monitor for your desired level of crispiness
**Ensure that your oven stays hot at 450 F - sometimes this temperature will dip and you'll need to reheat
SPINACH CHEESE DIP: Blend the cashews, water, onion and garlic together in a small food processor or blender. Add the remaining ingredients and blend well. Serve with the wings.
Recipe by
Crystal Higgins
at http://crystalhiggins.com/wings-without-guilt-buffalo-cauliflower-wings/