Crispy 'Cheezy' Baked Tofu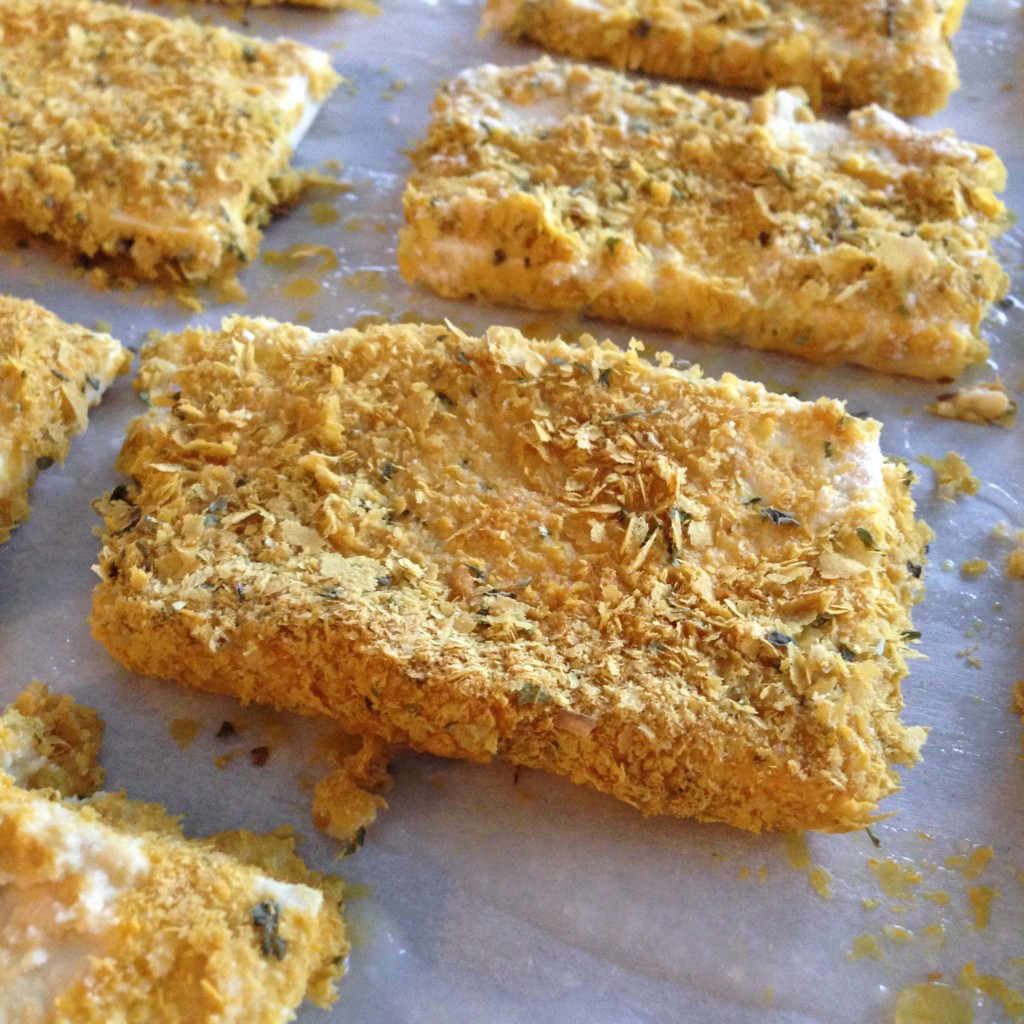 Author:
Crystal - inspired by Eat 2 Run
Recipe type:
Vegetarian Main
1 block organic extra firm tofu
1 cup nutritional yeast
1 tsp sea salt
1-2 tsp garlic powder
2 tsp dried parsley
1 tsp dried basil
1 tsp oregano
½ tsp paprika
½ tsp cumin
¼ tsp turmeric
½-3/4 cup plain unsweetened almond milk
⅓-1/2 cup whole grain spelt flour
1 Tbsp coconut oil
1 Tbsp dijon mustard
1 Tbsp liquid honey
Preheat the oven to 350 degrees F. Line a cookie sheet with parchment paper. Grease the parchment paper with 1 Tbsp coconut oil (this is important, otherwise the baked tofu will be a bit on the dry side).
In a medium bowl, mix the nutritional yeast, salt, garlic powder, parsley, basil, oregano, paprika, cumin and turmeric together.
Pour the milk into a separate small bowl by itself.
In a 3rd bowl, place the flour by itself.
Rinse the block of tofu. Slice it into about 18 slices (6 slices per serving).
Dip each tofu slice into the flour. Coat thoroughly and shake off excess.
Then dip each flour coated tofu slice into the milk.
Finally, coat the flour and milk dipped tofu piece in the spice mixture and coat evenly. Place each slice on the greased parchment paper lined cookie sheet.
Bake the tofu for 15 minutes. Flip and bake 15 minutes more, until golden.
Dip the baked tofu in a mixture of 1 Tbsp stone ground mustard with 1 Tbsp liquid honey per person. Serve with sautéed veggies.
**You may have leftover nutritional yeast & spice mixture left over. Consider repurposing this into roasted veggies or kale chips.
*Nutritional information includes the honey mustard dip
Serving size:
⅓ recipe
Calories:
341
Fat:
13 g
Carbohydrates:
35 g
Sugar:
6 g
Fiber:
8 g
Protein:
26 g
Cholesterol:
0 mg
Recipe by
Crystal Higgins
at http://crystalhiggins.com/crispy-cheezy-baked-tofu/