Crispy Yam Fries & Spicy Cashew Aioli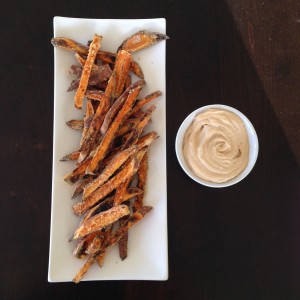 Author:
Crystal Higgins - inspired by Meghan Templer
4 medium yams, sliced into sticks
2 Tbsp avocado oil
3 Tbsp arrowroot starch*
1-2 tsp sea salt
*corn starch is an alternative to arrowroot starch
⅔ cup cashews, soaked (salted or raw)
1 Tbsp lemon juice
1 Tbsp red wine vinegar
¼ water or almond milk
½ tsp sea salt
¼ tsp cayenne pepper
Heat your oven to 450 F
Cover 2-3 baking sheets with parchment paper
Scrub the yams and slice into sticks
Place about half the chopped yams in a large bowl and coat with 1 Tbsp oil and 1 Tbsp arrowroot starch. Follow with the remaining yams, oil and arrowroot starch. Mix well until the yams are evenly coated.
Place the yams on the baking sheets leaving a space between each yam fry. This is VERY important in order to allow them to crisp up properly. If the yams are too close together they will become soggy and soft.
Bake for about 20-25 minutes, and flip the yams over. Bake for another 20 minutes or until desired crispiness.
To make the cashew aioli, place all ingredients (drained cashews, lemon juice, vinegar, water, salt and cayenne) in a food processor and blend until smooth.
Serving size:
¼ recipe
Calories:
290
Fat:
14g
Saturated fat:
2g
Carbohydrates:
37g
Sugar:
6g
Sodium:
760mg
Fiber:
4g
Protein:
5g
Recipe by
Crystal Higgins
at http://crystalhiggins.com/crispy-yam-fries-spicy-cashew-aioli/